Address to Partnership on Religion and Sustainable Development Conference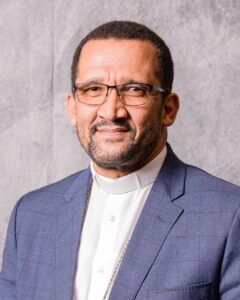 Thank you for this opportunity to make this address on behalf of the National Church Leader's Consultation. As faith-based communities, we are not only concerned about the souls of people but also about their physical wellbeing because human beings are not bodiless beings. Thus, between the government and Churches, between development NGOs and Churches and between funders and Churches there is a common goal of improving the lives of people. It was in recognition of this common goal about humanity that Partnership on Religion and Sustainable Development (PaRD) was founded in Berlin 5 years ago.
As we recall partnership and cooperation as values that are at the centre of the formation of PaRD, we find ourselves in the middle of Coronavirus pandemic. It is one of those few moments in human life where a calamity makes us realise that regardless of wealth, class, race and age we are all feeble beings with no control of life and so we are brought into solidarity. Unfortunately, in South Africa, some people are seeing this crisis not as moment of solidarity but as an opportunity to selfishly enrich themselves by stealing the resources meant to alleviate Covid-19 through corruption.
An article published by BMZ, following the foundation of PaRD in May 2016, Berlin – clearly stated the purpose of PaRd and I quote:
"The PaRD aims to strengthen and institutionalise cooperation between governments, multilateral organisations, non-governmental organizations (NGOs), academia, and religious actors working in the fields of development, peace, interreligious dialogue and humanitarian assistance".
We can no longer afford to work in silos and to ignore each other.
It is important to note that this partnership must lead to concrete action and implementable programmes that make a difference in the lives of people for the better, it should not just be a talk-shop. It is my hope that when we meet next year, here in South Africa, we will be able to evaluate the extent of our success and where we have failed and note the reasons for such failure and to avoid them in the future.
Reflecting on the objectives of PaRD, the binding cause of the Sustainable Development Goals for me is "dignity". Apartheid was legislated and implemented, but what we have today is explicit legislation in support of human dignity, but accompanied by lack of implementation. It has been said that South Africa is policy rich but implementation poor. There is a contradiction between the legislated affirmation of human dignity and what actually happens in reality.
The common denominator between government and the Church, and between NGOs and the Church is the development of people. Churches and faith communities agree about a new sustainable world order where each and every person lives a life worthy of a human being. However, there are some challenges that have a potential to frustrate this partnership and I just want to briefly note them here.
As Churches we value equal and respectful cooperation but sometimes our experience is that governments and NGOs are simply informing the Churches about their own visions and expectations, expecting the Churches to simply carry out what these expectations without staying long enough to listen to contributions of Churches and in that way making this partnership to be is one-sided. Churches do not want just to be implementers of government programs or policies, they want engagement because they are in touch with the reality of grass root and by nature of its vocation, the Church has a personal relationship with the people it serves, it's not just bureaucratic.
This is particularly true in a scenario where the vast majority of the member churches of the World Council of Churches (WCC) are in the global South while the funding partners are in the global North. Therefore, when deciding which Sustainable Development Goals (SDGs) to finance, particular attention should be paid to these power dynamics. Faith communities also stress the need to take into consideration that the nature of the work done by faith communities does not always fit into the three-year cycle of donor funding and often cannot meet their evidence-based requirements. A good example is the work of faith communities in the area of HIV and AIDS.
A great deal of the work carried out by faith communities (church congregations, women's groups) consists in helping people who live with HIV to adhere to therapy, eat healthily and have a positive attitude towards life. In order to be able to measure the impact of this work, qualitative analyses, statements from stakeholders and their documentation would be needed. However, there is hardly any financing available for these time-consuming tasks.
The argument of "evidence-based" programmes against HIV and AIDS – advocated by several government and development agencies could be misleading. Donors often provide short-term funding (mainly for biomedical programmes), despite the evidence that new infections are not decreasing, and they ignore the long-term effects of health projects of churches that would be more sustainable and cost-effective. Although the best treatment for HIV and AIDS would be prevention (to reduce the risk of new infections), this fact is ignored. Biomedical forms of treatment receive a large proportion of international funding, at the expense of prevention and education program
Partnerships committed to sustainable development objectives should not only be interested in rapid results but should also consider long-term projects that have a sustainable impact. We need to be self-critical for better partnerships. We must also jointly define what kind of partnership is the right one for both sides. Partnerships between the faith communities of the global South and the global North are indispensable so that churches in the global North can speak to their governments on behalf of faith communities of the global South.
One of the frustrations in church networks dealing with state-funded programmes is the lack of continuity in bureaucratic and political leadership on the part of the government; there is much more continuity in church structures. We are therefore often faced with the challenge of exchanging experiences with new representatives of the state system.
There are also other specific obstacles in legislation and government guidelines for nonprofit organizations and in particular churches, such as when we bid for public and international funding for health programs that address issues such as HIV/AIDS and tuberculosis. While church-organized programs are very effective, artificial policies and barriers discriminate against the largest religious networks. In doing so, they exclude institutions present in every corner of the country from becoming successful partners in order to strengthen efforts for better health and expand systems so that they could become more sustainable in the long run.
With regard to international policy guidelines for grants, unilaterally formulated guidelines by state development agencies frequently do not prove useful to developing countries, with the result that the outcomes of programmes are unnecessarily called into question. Only through channels/programmes such as the PaRD, the World Council of Churches and high-level meetings of church leaders can we tackle the obstacles that prevent the full realisation of the possible contributions of religious networks.
We are having this exchange in the context of Covid-19. There is consensus that Covid 19 has exposed inequalities within individual countries and among countries in the world. The price of this pandemic is felt more by the poor whose condition of life make them more vulnerable. It is therefore urgent that we move from rhetoric to implementation.
We must make an effective use of Church networks in food security and health programmes. As Churches, because of our connectedness with the grass-root we are better capable to deliver basic food and social programmes on the scale of this national crisis. The widespread corruption around Covid-19 relief by unscrupulous people that seek to utilize even this crisis as a means for self-enrichment must tackled head on. The Church, the state and the NGOs in partnership should act with urgency to address Covid-19 challenges and not only the immediate emergencies, but also structural changes for the way state and faith networks cooperate after Covid-19.
We look forward to welcome you in South Africa next year, thank you!